About me…
Kai Rüsberg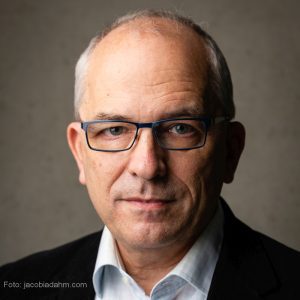 Biography
Kai Rüsberg works for public TV and radio of the public service network ARD in Germany since 1993. He studied at the faculty of economic, political and social sciences of the RUB University in Bochum, Germany. At the same time he started journalism with start-up support for a new private local radio station and founded an agency for public relations and radio services.
Audio and TV producer
The first self contained audio production he did was in 1994. 1996 he went into TV straight as a VJ reporter. There he covered some thousand news and science stories for TV and radio for WDR (Westdeutscher Rundfunk) and DLF (Deutschlandfunk). And he went live on the air some hundred times, before he discovered the web and his #MoJo – mobile journalism.
International trainings
He developed the #oneshot webvideo reporting technique for rapid news production on a smartphone and teaches it globally. His work as a trainer is for academies like Interlink Academy, Deutsche Welle, International Media Academy, Reporterfabrik, or directly for Media Houses (Lensing, Ruhr Nachrichten) and NGOs.
2016: Tanzania, Kenya,
2017: Zimbabwe
2018: Nepal, Georgia, Bangladesh
2019: India
2020: Myanmar
2021: Ukraine (Belarus)
2021 + 2022: Azerbaidshan, Armenia
Passion in training for journalists
2015 he started the MediaLab.NRW, a network for low-threshold vocational training and media-transition for all different occupations in the media business to enhance knowledge of new formats and co-operation (and even hanging-out together). This idea was awarded as a "creative space" by Creative.NRW in 2018. He holds a yearly lecture on communication policies at the W‑HS (public university). Recently he is developing #VR and 360° photo and video productions for journalism.
2018 he took part in the Masterclass Science-Journalism of the Robert-Bosch-Foundation. His project was on air-pollution and particulate matters.  2019 he was invited to a 3 month stay in India of the "Media Ambassadors India – Germany" program of the  University of Tübingen, Centre for Media Competence in cooperation with the Asian College of Journalism in Chennai and worked for the Centre for Science and Environment (CSE) at the monthly magazine "Down to Earth" in New Delhi.
He got invited to the first Journalism Innovators Program of the Hamburg Media School for 2021/22 (#JIP21).
April 2023: Climate Arena Fellowship with the shared goal of improving climate reporting in Europe.
webvideo: oneshot – for the whole picture